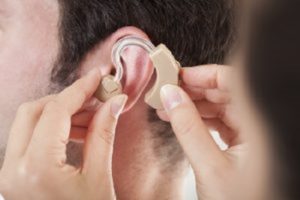 Having the right kind of hearing aids that are a good fit is important to you, and the thought of having to take them out might not be pleasant. But there are a couple times when it can be good for both you and your hearing aids to know when to take them out. Here are some beneficial times to take out your hearing aids.
When They're Wet
You might be surprised to know that even a tiny bit of moisture can damage hearing aids over time. The best thing you should do if your hearing aids get wet is to take them out right away and get them dried. So whether you are about to step into the shower, had a sweaty workout, or got caught in the rain, it's best to make sure that your hearing aids are dry. When possible you should also avoid putting your hearing aids in steamy-humid conditions, like a bathroom when showering. Fortunately, you can easily dry your hearing aids with a microfiber cloth, just avoid using harsh methods like a hot blow dryer. 
For Cleaning
Every now and then your hearing aids should have cleaning and maintenance to help keep them working at their best. It's best to remove your hearing aids once a day, usually at the end of the day, to clean them. You can simply wipe them off with a clean cloth to clean out dust, earwax, and other debris. If you make sure to clean your hearing aids regularly you will reduce the likelihood of them needing to be repaired or replaced.
Before Bed
Another good reason to remove your hearing aids at the end of the day is that after you finish cleaning them you can put them away for the night. Although most modern hearing aids can be worn in bed without discomfort, there are some pretty good reasons not to. Getting a good night's sleep is one of the few opportunities to take advantage of hearing loss in a way. In other words, you won't need your hearing aids to listen for sounds that would keep you up anyway. Wearing hearing aids in bed increases the risk of them coming out of your ears and getting damaged if you turn over in your sleep.
Contact Bay Area Audiology Today!
Ready to change the way you look at hearing loss?  Our Doctor of Audiology, Dr. Trisha A. Bents Muth, is exceptionally experienced in the art of audiology, and is dedicated to providing the absolute best solutions.  Bay Area Audiology has been working to give patients a comfortable environment, with thorough evaluations.  We are independently owned, and unbiased when it comes to finding you the care you need.
You can always come into the office, or contact us in advance to set up an appointment.  We also provide updates on our social media websites.  You can check out our Facebook, Twitter, LinkedIn, and Pinterest to keep up with Bay Area Audiology.
Don't hesitate–we can help.