Assistive Listening Devices
If you suffer from partial hearing loss that makes it difficult to distinguishing speech sounds in the presence of background noise, an assistive listening device (ALD) might be recommended by your audiologists. ALDs can be used either with or without a hearing aid, depending on your specific needs.
What does an ALD do?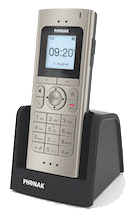 Assistive living devices contain amplifiers that increase the volume of speech sounds above background noise so that words can be understood and processed. Most devices capture sounds with a microphone and then wirelessly broadcast the signal to a receiver. The receiver allows the user to tune in to the signal and adjust the volume of the device to their liking.
While hearing aids are able to amplify speech sounds to make them easier to process and understand, for users who need significant amplification the final sound that reaches their ears might be so distorted that the hearing aid is unable to clarify and make sense of the signal. In these situations, an ALD will be able to ensure that sounds are loud enough to be easily processed. Many users find that a combination of a hearing aid and an assistive living device is the best way to ensure that they are able to hear well in any and all situations.
When would I use an ALD?
There are many situations where using an ALD can improve hearing, including while watching TV and talking on the telephone. Depending on how you intend to use your ALD, you will have a variety of options to choose from that can be used with and without hearing aids in order to meet all of your daily listening needs. A few examples of assistive listening devices include:
Amplified telephones
Amplified stethoscopes
FM systems
Wireless remote microphones
Alerting doorbells
Which type of device you require will depend on a wide variety of factors that are unique to your situation, so you will need to work with an experienced and professional audiologist to determine the best technology for your specific needs.
Bay Area Audiology provides comprehensive hearing services to clients of all ages in Bel Air, Fallston, Forest Hill, Emmorton, Churchville, Jarrettsville, and throughout Harford and Baltimore Counties. If you feel that you or a loved one is experiencing hearing loss, give us a call at
(410) 838-4327
to take the first step toward regaining control over your hearing.