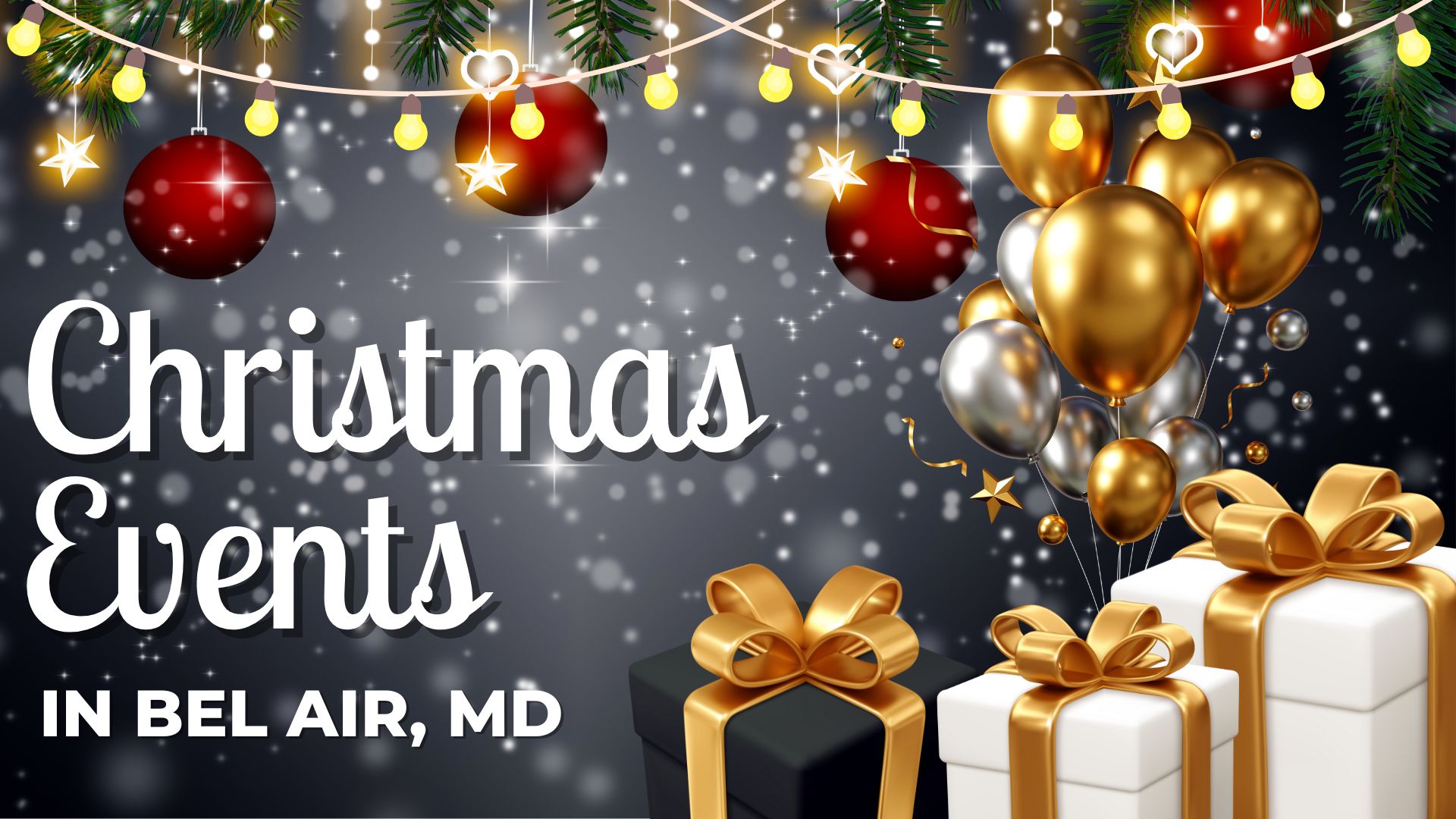 Annual Christmas Bazaar
When: November 18, 2023
Where: St. Johns Episcopal Church 11901 Belair Rd, Kingsville, MD
Join us for our annual Christmas Bazaar! Crafts, Jewelry, Homemade Pies, Pictures, Woodcrafts, Holiday Gifts, Decorations and More! Come for Breakfast and Lunch.
Bel Air Holiday Market
When: November 25th, December 2nd, December 9th, December 15th @ 9:00-12:00am
Where: 121 S Main Street Bel Air, MD 21014
The Belle Aire Holiday Market is an extension of The Belle Aire Market to extend your artisan vendor shopping into the holiday season! From 9 a.m. to 12 p.m. at 121 S Main St in gorgeous Downtown Bel Air each Saturday between Nov. 25 and Dec. 16, enjoy all the market has to offer while shopping for those last-minute gifts!
Rockfield Manor Annual Tree Lighting
When: December 1, 2023 @ 6:00 pm – 8:00 pm
Where: Rockfield Manor, 501 Churchville Rd, Bel Air, MD 21014
Kick off the holidays with Rockfield Manor's Christmas tree lighting benefiting Harford County Toys for Tots. Admission free with new unwrapped toy. Call 410-638-4565 or visit www.rockfieldmanor.com.
Holiday Open House
When: December 2, 2023 10:00 am- 4:00 pm
Where: Liriodendron Mansion: 502 W Gordon Street Bel Air, MD 21014
Experience that holiday magic at the historic Liriodendron Mansion's annual Holiday Open House. Fresh greenery arrangements, mantle and centerpieces for sale, arts and crafts vendors, live Christmas music, and light refreshments. For more information, visit www.liriodendron.com.
Holiday Open House & Sale
When: December 2-3 2023 10:00 am- 6:00 pm
Where: Harford Artists Gallery 37 N Main Street, Suite 104 Bel Air, MD 21014
Enjoy holiday shopping for unique gift items and original artwork created by local artists. 10 am – 6 pm. Call 410-420-9499 or visit www.artinharford.org.
Christmas Parade & Tree Lighting
When: December 3, 2023 @ 3:30 pm – 5:00 pm
Where: Downtown Bel Air
The Downtown Bel Air Christmas Parade is a tradition that has been going on for over 30 years! This is a time where our community comes together in historic Downtown Bel Air to celebrate a special time of the year. Event is weather permitting. In the case of bad weather, the event will be canceled and not rescheduled.
Kids Christmas Craft Night
When: December 7, 2023 @ 6:00 pm
Where: J'Ville Grille 3701 Federal Hill Road Jarrettsville, MD 21084
🎄Get your little ones in the holiday spirit at our Kids Craft Night where they will make a holiday ornament and decorate a gingerbread man! 🎅Kids food buffet also provided. Craft is appropriate for ages 3 and up. Parents/guardians will dine and drink in the front area while we supervise your kids. (Parents/guardians must remain on site for duration of event)🎁
Please be sure to say how many adults will be with your child so we can reserve tables in the front.
THE ERIC BYRD TRIO PLAYS "A CHARLIE BROWN CHRISTMAS" LIVE!
When: December 9, 2023 @ 4:00 pm & 7:00 pm
Where: The Liriodendron Mansion 502 West Gordon St. Bel Air, MD 21014
The Eric Byrd Trio will return to the historic Liriodendron Mansion on Saturday, December 9 for a special holiday concert featuring music from the beloved Charlie Brown Christmas! Shows at 4 and 7 pm. Tickets $15 for adults, $10 for 12 and under.
Celtic Angels Christmas
When: December 10, 2023 @ 2:00 pm
Where: Amoss Center (inside Harford Technical High School)
This true holiday celebration captivates audiences of all ages with the magic of Christmas in Ireland, featuring vocal and instrumental favorites along with spectacular world-class champion Irish dancing. The talented vocalists all hail from Ireland and perform traditional Celtic Christmas songs such as "Come Home to Ireland for Christmas," as well as classics including "O Holy Night" and "Have Yourself a Merry Little Christmas."
Eugenia Returns: A Christmas Story
When: December 10, 2023 @ 2:00 pm
Where: Hays House 324 N Kenmore Avenue Bel Air, MD 21014
Presented by storyteller Christine Potts.
Bel Air Community Band Winter Concert
When: December 10, 2023 @ 3:00 pm
Where: Bel Air High School, 100 Heighe St, Bel Air, MD 21014
Enjoy a beautiful selection of seasonal and holiday music for all ages. Many styles and popular music will be featured to get you in the spirit of the holidays! Admission is free. Visit www.belaircommunityband.org.
Leading Harford Photos with Santa
When: December 2, 2023 10am – 1pm
Where: Harford Cheerleading 701 Whitaker Mill Road Joppa, MD 21085
Join us for photos with Santa! Saturday December 2nd from 10am – 1pm. This event is hosted by Leading Harford, a non profit Boosters Club that offers free and low cost community events all while supporting Harford Cheerleading! Every family has 5 minutes with Santa to have pictures taken by Shawn Michelle, The Journey Untold Photography. The session cost is $25 and includes 1 digital image delivered via email. There will be a gallery of all photos taken emailed to you with the option to purchase additional photos. Pets are welcome, they just must be leashed at all times.
This event sells out every year so be sure to secure your spot as soon as possible!
Breakfast with Santa
When: December 3, 2023
Where: 5700 Newbury Street Baltimore, MD 21209
Breakfast with Santa, a fundraiser benefitting Cool Kids Campaign, is back for a second year! Join us for cheer and celebration at the Mt. Washington Tavern to kick off this holiday season. Guests will enjoy a wonderful meal and kids crafts/activities before completing your magical morning with a visit and photos with Santa!
Get Tickets here: https://www.eventbrite.com/e/breakfast-with-santa-tickets-736458907417?aff=ebdssbdestsearch
Bel Air Farmers Market Holiday Village
When: December 9, 2023 at 1:00pm
Where: 151 W Pennsylvania Ave, Bel Air, MD 21014
Our beloved Market will be transformed into a magical twinkling, outdoor European village of delights. Stop by to shop local artisan products, crafts, and find special one-of-a-kind gifts for your loved ones! Also find local farmer and small business favorites such as meats, cheeses, jams, soaps, candles, florals and so much more!
While you're there, enjoy our festive beer garden, adult cocktails, hot chocolate, cider, mulled wine and other special beverages. Pair your drink of choice with a fabulous selection of freshly prepared local foods, grilled oysters, pizza, warm kettle corn, nuts and more. And we couldn't have a beer garden without traditional German cuisine by our beloved local Das Bierhalle.
Bring the kids for cookie decorating fun, and sign yourself up for special wreath making and craft cocktail classes. These offerings will have a registration and a small fee. More info to come.
Finally, enjoy the sounds of Kimmestree and other holiday music specials! We can't wait to open up the Holiday Season with you!
A Christmas Carol Performance and Tea
When: December 17, 2023 at 3:00pm
Where: Jerusalem Mill 2807 Jerusalem Road Kingsville, MD 21087
Prepare to be transported back in time to Victorian England and experience the magic of the holiday season. Indulge in a scrumptious selection of traditional tea sandwiches, scones, and delectable desserts, all served alongside a steaming cup of tea. The charming atmosphere will be beautifully decorated, evoking the spirit of Christmas. Prepare to be captivated by a special performance of A Christmas Carol, the beloved tale of Ebenezer Scrooge and his transformation. Listen as the characters come to life filling the room with laughter, heartwarming moments, and valuable life lessons.Don't miss the opportunity to celebrate the holiday season in a truly magical way. Book your spot now and create lasting memories. https://www.eventbrite.com/e/a-christmas-carol-performance-and-tea-tickets-723569103667
Holiday Party @ The Grazing Room
When: December 21, 2023 at 6:00pm
Where: The Grazing Room at Boards by Dana 15 E Churchville Rd #109 Bel Air, MD 21014
Join us for our annual Holiday Party at The Grazing Room! Enjoy a hot cocoa bar, holiday-themed food & drinks by The Grazing Room, cookie decorating by Coastal Cookies, and a gingerbread house contest with a holiday movie playing on the TV! Our cozy venue will be decked out in holiday decorations to celebrate the most wonderful time of the year! You won't want to miss it!
So mark your calendars and get ready to jingle and mingle at The Grazing Room. We can't wait to celebrate the holiday season with you!
**LIMITED tickets available** https://www.eventbrite.com/e/holiday-party-the-grazing-room-tickets-750784064347
*Tickets to this event are non-refundable*