Hearing Aids
Trust trained audiologists with your hearing aids! Expert fitting, diagnostics & top quality prescription products
Key Points:
Hearing loss is unique to each patient and the most effective solutions require specific and unique treatment.
To ensure that you are completely satisfied with your hearing aid, we offer a 60-day money-back-guarantee on our digital hearing aids.
Top-tier products, technology and medical expertise that results in hearing solutions and treatments far superior to one-sized fits all amplifiers and over-the-counter products.
3 Years of no charge office visits for hearing aid checks/programming appointments
3 Year Manufacturer's Repair Warranty
3 Year Manufacturer's Loss & Damage Warranty

Location Information
Bay Area Audiology
424 Barnes St., Suite 102
Bel Air, MD 21014
Phone: (410) 593-1569
Fax: (410) 376-8161
[email protected]
Overview
Hearing loss is unique to each individual patient, which means that treatment and solutions must be equally unique. There is no one-size-fits-all approach when it comes to hearing loss, which is why Bay Area Audiology offers a wide array of digital hearing aid products and manufacturers to choose from. Whether you are looking for a behind-the-ear hearing aid, an extended wear hearing aid, or a custom-fit device, we are sure to have exactly what you need at a price you can afford.
We understand that choosing a digital hearing aid is complicated and often difficult. That is why we work closely with each of our clients to provide a comfortable and individualized experience where we will give you the tools and resources that you need to make the best possible decision. As a locally-owned and operated audiology practice that is not tied to any specific hearing aid manufacturers or solution, we are not influenced by manufacturer contracts or sales incentives so you can trust that our recommendations will be made with your wellbeing in mind. We fit and program all major hearing aid manufacturers.
A hearing aid will only work effectively if it is fitted properly, and our expert audiologists go above and beyond to provide you with the best fitting possible. We use cutting edge technology, called Real Ear Measurements, in order to program each patient's hearing aids specifically to their hearing loss, taking into account the shape and acoustics of their ear canals in order to ensure a perfect fit and ideal functionality. These Real Ear Measurements are critical in order to program a hearing aid correctly and will allow you to hear better than ever.
To ensure that you are completely satisfied with your hearing aid, we offer a 60-day money-back-guarantee on our digital hearing aids. If you find that the hearing aid you chose is not working out for you, simply bring it back for a refund.
Once we have evaluated your hearing and determined you are a candidate for a hearing aid, we will select the appropriate hearing aid for your unique situation. Many factors go into choosing the correct hearing aid, including your type of hearing loss, your lifestyle, manual dexterity, desire for certain hearing aid technology, and your budget.
Bay Area Audiology is an independent office with no ties to any specific hearing aid manufacturers. This means we are not influenced by contracts or sales incentives — we simply recommend the very best hearing aid for you. We also provide same day in-office hearing aid demonstrations that provide you with time to "test drive" your new hearing aids and experience the benefits of cutting-edge digital hearing aid technology.
Hearing Aid Programming
Digital hearing aids have hundreds of parameters that can be adjusted in order to achieve the optimal results. Several adjustments are expected to be made in the initial period when you first get hearing aids, as your brain adjusts to the different sounds or to better accommodate to specific listening environments.
Real Ear Measurements
Fitting a hearing aid is truly a personalized experience that is tailored accordingly to each person's ear and hearing abilities. Everyone's ear canals are shaped differently, which impacts the way we program each person's hearing aids. All hearing aids are programmed using advanced Real Ear Measurement (REM) technology. Real Ear Measurements allow us to measure the amount of sound the hearing aid is producing while in your ear canal. These measurements are considered the "gold standard" of programming hearing aids and are essential in order to obtain an accurately fitting hearing.
Hearing Aid Purchase Package
All new hearing aids purchased through Bay Area Audiology include:
Hearing aid programming using state-of-the-art technology
3 Years of no charge office visits for hearing aid checks/programming appointments
A 60-Day Risk-Free Trial Period
3 Year Manufacturer's Repair Warranty
3 Year Manufacturer's Loss & Damage Warranty
Membership into our Wholesale Battery Club
Hearing aid cleaning tools
We want you to be 100% satisfied with your hearing aids! Once you are fit with your hearing aids, we will see you back for a few follow-up appointments to make any adjustments to the devices and to ensure you are satisfied. After your follow-up appointments, if you are not satisfied with your hearing aids, you have 60 days to return them for a guaranteed 100% refund.
Hearing Aid Maintenance
Hearing aids are sophisticated electronics that require routine maintenance. Besides daily cleaning, we recommend routine 6-month hearing aid checks. During these checks, we replace parts, use sophisticated equipment to verify the hearing aids programming, and give the devices a professional cleaning using a vacuum system, special chemicals, and tools. Three years' worth of hearing aid checks are included with the purchase of new hearing.
Hearing Aid Repairs and Troubleshooting
Hearing aids occasionally need repair. If your hearing aid is still under warranty, we will send it out for repair free-of-charge. If it is out-of-warranty and we are unable to repair it in-the-office, we will send it out for a sensible fee. Out-of-warranty repairs that have to be sent to the manufacturer for repair return with either a 6 or 12-month manufacturer warranty. Repair warranties can be extended for an additional fee if desired.

How Hearing Aids Can Help
Hearing aid technology has come a long way since their invention in 1920. Today's hearing aid devices are now smaller and more comfortable than ever and offer a wide variety of features and functions that were unimaginable even just a few years ago.
Bay Area Audiology offers a comprehensive selection of hearing aid devices that integrate a variety of different technological advances depending on your needs. Our expert audiologists can help you decide which features and functionalities would benefit you, and they might include:
Softening Loud Sounds
Older generations of hearing aids were often difficult to use because if you turned them up enough to hear words and voices, environmental sounds would become too loud for comfort. During the fitting process, modern hearing aids can be programmed to automatically adjust to incoming sound so that you will never have to worry about turning your hearing aid up and down to accommodate different sounds.
Digital Noise Filtering
One of the most difficult things for people experiencing hearing loss is distinguishing voices in the presence of background noise. With the advanced digital noise filtering technologies that come standard in most modern hearing aids, your device will distinguish between ambient noise and the sounds of speech and automatically lower the volume of unwanted background noises.
Wireless Technology
If you love high-tech gadgets and always want to be connected, a hearing device equipped with wireless technology might be perfect for you. Wireless hearing aids come with many benefits, including:
Allow you to listen to Bluetooth-enabled devices through your hearing aid
Control adjustments with a remote
And more!
Directional Microphones
A hearing aid that features a directional microphone will allow you to hone in on the voice of the person that you're listening to. By giving you the ability to focus your hearing, you will be able to better understand speech in the presence of distracting background noise.
Feedback Suppression
Older hearing aids were plagued by issues with feedback, which creates a high-pitched whistling that is both annoying and embarrassing. Modern hearing aid devices integrate feedback suppression technology which can completely eliminate the problem of whistling.

Hearing Aid Styles
Hearing aids are available in a variety of styles, and which you choose will depend on your personal circumstances as well as individual preference. Custom hearing aids utilize an earmold impression that is molded to the shape of your unique ear canal, ensuring comfort and the highest sound quality possible. Your audiologist will help you determine the best style for your custom hearing aid.
In-the-Canal Hearing Aids


ITC hearing aids are designed to rest within your ear canal, which means they are small, sleek, and blend in with the tone of your skin. Small devices such as invisible-in-the-canal hearing aids are virtually invisible, while larger options like in-the-canal offer much longer battery life, more advanced functions and features, and easier insertion.
In-the-Ear Hearing Aids

ITE hearing aids are the largest option available and can range in size from a half shell (filling half of the ear) or full shell (filling the entire ear). Because they are so large, they offer the best battery life as well as the opportunity to incorporate advanced features and manual controls.
Lyric Hearing Aids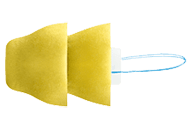 For a truly invisible and low-maintenance hearing aid, Lyric is the best choice. Your Lyric hearing aid will be placed exactly 4mm from your eardrum by your audiologist and you will wear your device 24 hours a day/7 days a week for up to three months. When your device stops working, simply give us a call to have a replacement inserted. Lyric hearing aids will not work for everyone, but they can be highly effective for mild to moderate hearing loss.
Behind-the-Ear Hearing Aids


BTE hearing aids are designed to rest behind the ear while a thin wire or tube transmits sounds directly into your ear canal. BTE devices are appropriate for even severe hearing loss. Whether you prefer the discretion of a Receiver-in-the-Canal style or you need a mini BTE that can be programmed as an "open fit" that will help you handle your high-frequency hearing loss, Bay Area Audiology will be able to create the right customized hearing aid device for your needs.

Hearing Aid Manufacturers We Offer
At Bay Area Audiology, we are proud to be a locally owned and operated audiology practice. Because we are not tied to any specific hearing aid manufacturers, you can trust that our hearing aid recommendations will always unbiased, honest, and trustworthy and you can be sure that we will only recommend digital hearing aid devices that we truly believe will work best for your needs. As an independent practice, we are never influenced by manufacturer contracts or sales incentives because we believe that your hearing is more important than money.
Our professional and experienced doctors have the ability to fit and program all major hearing aid manufacturers, including:
Phonak
Lyric
ReSound
Oticon
Starkey
Siemens
Widex
Unitron
Micro-tech
Rexton
Our professional hearing experts use cutting-edge technology called Real Ear Measurements in order to ensure optimal hearing aid performance. This technology allows us to program each hearing aid to each client's specific needs in order to provide the best sound quality and highest level of comfort possible.
To back up our comprehensive selection of hearing aid options, we also offer a 60-day money-back-guarantee on all of our devices. This allows you to try out your new hearing aid in the comfort of your own home and truly find out whether it will work for you. If the device you purchased turns out not to be the best choice, feel free to return it any time during the 60-day window for a full refund. We are one of the only audiology practices in the area to offer a comparable guarantee.
Bay Area Audiology provides comprehensive hearing services to clients of all ages in Bel Air, Fallston, Forest Hill, Emmorton, Churchville, Jarrettsville, and throughout Harford and Baltimore Counties. If you feel that you or a loved one is experiencing hearing loss, give us a call at (410) 803-3972 to take the first step toward regaining control over your hearing.
Frequently Asked Questions About Hearing Aids
If you are experiencing hearing loss and will need a hearing aid, you may be overwhelmed with questions. How are you supposed to choose the right hearing aid when you do not know anything about them? The experts at Bay Area Audiology are here to help! These are some of the most common questions we receive in our practice. If you have further questions that have not been answered here, our specialists will be happy to work with you to determine the best hearing aid for your needs.
Will my hearing aid be uncomfortable?
Though hearing aids in the past were big, bulky, and often became tiresome to wear after a period of time, technological advances have created devices that are smaller, sleeker, and more comfortable than ever. There are a wide variety of hearing aid styles to choose from and some patients find certain types to be more comfortable than others. At Bay Area Audiology, we invite you to give various devices a test-run in our office so you can determine which will be best for you, and you will have 60 days to return it for a full refund if you find that you are unhappy with your choice.
Will a hearing aid cure my hearing loss?
Because hearing loss is the result of permanent damage to your auditory system, there is no cure for it. Hearing aids are assistive technology that allow you to cope with and effectively manage your hearing loss by providing sound amplification that makes it easier to hear.
How much will my hearing aid cost?
Because hearing loss is unique for each patient, treatment options are equally unique. At Bay Area Audiology, we provide a customized approach to ensure that your needs are met, but this also means that we cannot say for sure how much your hearing aid will cost because it will depend on which best suits your individual circumstances. We will always work closely with you to ensure that your budget concerns are honored and your needs are met effectively and affordably.