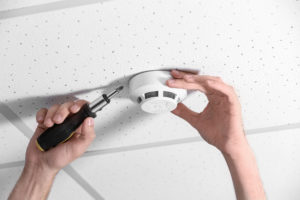 When someone is living with hearing loss, there can be a lot of elements of their life to deal with that most people wouldn't think of. In particular, there are several parts of the typical home that don't cater well to people with hearing loss. The good news is that we can easily identify these areas and find modifications that work with hearing loss. Here are some common examples of hearing loss-friendly modifications that you can have in your home.
Alarms
It's amazing how much technology relies on sound to alert the user. There could be several important appliances, from a washing machine to a smoke alarm that have auditory alerts. In particular, there are designs for smoke alarms that use other cues besides or in addition to sound. You can get a smoke alarm with a flashing light that will go off if smoke or carbon monoxide is detected. And if you are concerned about missing this alarm in your sleep, then the smoke alarm can also be connected to a vibration pad under your pillow. 
Doorbell
Another important part of the house that uses audio is the doorbell. It would be frustrating for you to miss out on important visitors or packages because you didn't know someone was at the door. An easy solution is to add flashing alerts that you can have installed in different parts of the house. 
Phone
If you haven't already, then you should go into the accessibility settings of your cellphone and change your ring alert to add a flashing light. And you can have the same effect for your phone at home. Landlines may not be as popular, but that doesn't matter if you think they would be a good choice for you. Plus, it is easy to modify a landline phone with a flashing light or vibration alert.
Contact Bay Area Audiology Today
Ready to change the way you look at hearing loss? Our Doctor of Audiology, Dr. Trisha A. Bents Muth, is exceptionally experienced in the art of audiology and is dedicated to providing the absolute best solutions.  Bay Area Audiology has been working to give patients a comfortable environment, with thorough evaluations. We are independently owned, and unbiased when it comes to finding you the care you need.
You can always come into the office, or contact us in advance to set up an appointment. We also provide updates on our social media websites. You can check out our Facebook, Twitter, LinkedIn, and Pinterest to keep up with Bay Area Audiology.
Don't hesitate–we can help.