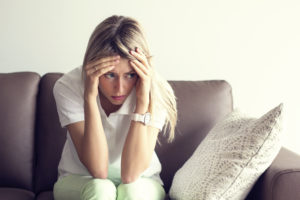 Awareness about tinnitus is spreading and many people consider chronic tinnitus as devastating as hearing loss. If you suffer from tinnitus, then you know how agonizing the constant ringing sensation can be. But fortunately over the years doctors have started to see how certain good health habits can help make tinnitus more bearable. Talk to your audiologist about your tinnitus, and maybe give these coping methods a try.
Lower Stress
Signs point to stress being a link to tinnitus. And since having the condition is stressful in itself, it's easy to get caught in a vicious cycle. So it's a good idea to try to give yourself a chance to relax. If you can't find time in your busy day to schedule a break every so often, or if that isn't enough then you can try talking to a counselor. Many people see a therapist even when they don't have any mental health issues, simply because the stress of life these days. There's no shame in having a conversation about what's stressing you out in your life. And you might find that lowered stress levels will help your tinnitus ease up as well.
Diet
It might come as a surprise to some that what you eat can have anything to do with hearing health. But because diet is important to all your body's functions, watching what you eat will help you control your tinnitus. Very salty and sugary foods can dehydrate you which makes tinnitus worse and often contributes to headaches. So start by staying hydrated and talk to your doctor about what dietary changes can help you specifically.
Exercise
The same principles with having a healthy diet also apply to getting exercise. Not only does exercise help boost your mood and lower stress, but it promotes a healthy circulation. And it doesn't have to be a high-impact workout. Sometimes simply taking a walk every day can help reduce the effects of tinnitus. Every person is different so you want to make sure that you're doing exercises that are safe and healthy for your body. 
Contact Bay Area Audiology Today!
Ready to change the way you look at hearing loss?  Our Doctor of Audiology, Dr. Trisha A. Bents Muth, is exceptionally experienced in the art of audiology, and is dedicated to providing the absolute best solutions.  Bay Area Audiology has been working to give patients a comfortable environment, with thorough evaluations.  We are independently owned, and unbiased when it comes to finding you the care you need.
You can always come into the office, or contact us in advance to set up an appointment.  We also provide updates on our social media websites.  You can check out our Facebook,Twitter, LinkedIn, and Pinterest to keep up with Bay Area Audiology.
Don't hesitate–we can help.