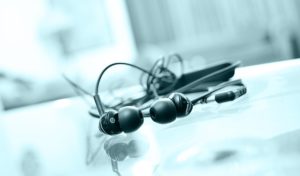 If you are unfamiliar with the term Assistive Listening Device, or ALD, then you might wonder if it is the same as a hearing aid. The fact is that hearing aids, and ALDs have a lot of similarities, but an ALD is its own distinct category. Here are a few things you need to know about assistive listening devices.
How it Works
Much like a hearing aid, an ALD picks up sound in a microphone and transmit them to a receiver in the user's ear. Many assistive listening devices come with a handheld component to adjust the volume and clarity. This adjuster is what differs an ALD from a hearing aid, and it helps keep sound from becoming distorted.
Types of ALD
The assistive listening device comes in a few different configurations. First, a personal amplifier is simply a small box with a microphone attached by a cord. It's best for one-on-one conversations where the person speaking can wear the microphone so that the listener hears them. An FM system uses radio waves to transmit the sound, so that the listener can hear more than one thing at a time, and it is better for outside and mobile activities. Infrared systems use a more private connection than FM radio waves, but the signal can be easily disrupted. A modern wireless option is Bluetooth, which provides a strong connection within a short range and can easily switch devices as needed.
When to Use
Another important distinction between a hearing aid and ALD is that an ALD is not intended to be worn all the time. You can use an ALD with a hearing aid or on its own. The reason an ALD isn't meant for around the clock use is because of how it is designed to amplify specific sounds. It is like turning up the volume in life at certain points. Just like on television how you might turn the volume up for a quieter part of a show but turn it down again for the loud commercials, you only need an ALD for specific circumstances. For example, and ALD is great for having a conversation on the phone.
Contact Bay Area Audiology Today!
Ready to change the way you look at hearing loss?  Our Doctor of Audiology, Dr. Trisha A. Bents Muth, is exceptionally experienced in the art of audiology, and is dedicated to providing the absolute best solutions.  Bay Area Audiology has been working to give patients a comfortable environment, with thorough evaluations.  We are independently owned, and unbiased when it comes to finding you the care you need.
You can always come into the office, or contact us in advance to set up an appointment.  We also provide updates on our social media websites.  You can check out our Facebook, Twitter, LinkedIn, and Pinterest to keep up with Bay Area Audiology.
Don't hesitate–we can help.