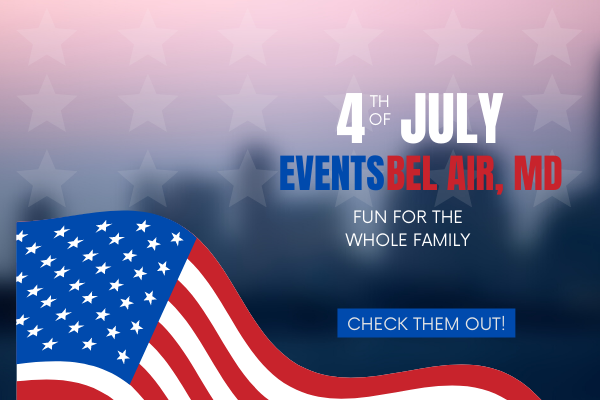 We love the 4th of July and all the fun events that go along with it! Check out some of our favorites below! Right here in our hometown (and around) are LOTS of fun events are planned for the whole day!
Town of Bel Air: 4th of July Day Schedule (https://belairjuly4.org/schedule.php)
6:45 am and other times: Flag Raising Ceremonies
Flag Ceremonies will take place at each individual event location!
6:45 am: Flag-Raising Ceremony, featuring Disabled American Veterans, Chapter 30; American Legion Post #39 and Sgt. Alfred B. Hilton Memorial American Legion Post #55 in front of BEL AIR HIGH SCHOOL.
8:00 am (approx.): ROCKFIELD PARK
8:45 am (approx.): SHAMROCK PARK
10:45 am (approx.): HICKORY LOT
7 am – 11:30 am: Blueberry/Chocolate Pancake and Sausage Breakfast
Adults: $8. Children under 10: $5.
BEL AIR HIGH SCHOOL (side entrance facing Baltimore Pike); please arrive no later than 11 am in order to purchase a breakfast ticket. This event is hosted and undertaken by the Bel Air High School Athletic Boosters; information is subject to change.
8:30 am: Horseshoe Pitching
Rockfield Park.
Registration 8:00 am; Flag Ceremony 8:00 am.
9 am – noon: Family Contests & Competitions!
These are generally in "Age Divisions," depending on attendance. Ribbons and trophies are awarded to winners and all participants. INFORMATION HEREIN is subject to change.
   In Shamrock Park: Flag Ceremony: 8:45 am
WATER BALLOON TOSS: 8:30 am Registration; 9 am Competition
BOCCE COMPETITION: 10 am
UNCLE SAM SAYS: 11 am
WATERMELON EATING: 11:30 am
11 am: Bicycle Registration & Rodeo
This event is hosted and undertaken by the Bel Air Police Department.
HICKORY PARKING LOT (across Pennsylvania Ave. from the Library)
Flag Ceremony: 10:45 am
Trophies for Best Decorated Bike (boys AND girls); awards for ages 5 and under; 6-8; 9-10; 11-13.
4:30 – 6 pm: Parade Unit Staging
Parade staging takes place beginning at the INTERSECTION of S. MAIN STREET and E. MACPHAIL ROAD, the entrance to the Homestead-Wakefield Elementary School complex.
All units should report to that intersection, including bands.
Specific instructions for staging, arrival, routes to get to the staging, etc., are e-mailed to accepted parade entrants in late June.
If your application has been accepted, and you have NOT received such paperwork via e-mail by June 27, or if you are unclear on the status of your application, or if you are not able to receive e-mail, or if you have any questions about the staging of the parade, please call 410-879-4245 or send an e-mail to the Parade Committee immediately.
6 pm: BEL AIR JULY 4 PARADE
The 2022 Parade will start at the intersection of IDLEWILD and S. Main and procced to the intersection of E. Gordon Street and North Main Street, at the "Welcome to Bel Air" sign. See the map!
Note: If the parade is cancelled due to inclement weather, it will not be rescheduled. Cancellation information is announced on our Facebook page, and broadcast on WXCY-FM 103.7 and WAMD-AM 970.
9:30 pm (approximate): Fireworks Display
The 2022 fireworks will be launched from Rockfield Park. Spectators may watch from any permitted area in or around the Town of Bel Air. Please obey no-entry zones (see map). If the fireworks are cancelled for any reason, they will not be rescheduled.
More fun activities in surrounding areas:
House of Beluah – My Independence Summer Blast Fair – July 3rd 
There will be a fair held at the Veterans Plaza on July 3rd. There will be several arts, crafts, small business, and food vendors.

@ the Veterans Plaza, Silver Spring

DRIVE TIME – 1 hr 7 minutes**
Asics Independence Day 4 Miler presented by Independent Brewing Company
Join us for our annual 4th of July celebration – the Asics Independence Day 4 Miler presented by Independent Brewing Company! Come out in your Red, White & Blue, run the Ma & Pa Trail and end at Independent Brewing Company where the first beer is included with race registration for those 21+.

July 3rd, 8:00am

Ma and Pa Trail, Bel Air, MD, United States, Bel Air, United States

DRIVE TIME – 6 minutes**
DMV Musicians and Singers Fellowship – Backyard Barbeque – Southern Friendship Missionary Baptist Church
WE ARE BACK. Join us on July 4th from 12pm-4pm for a great time of fellowship with great food and music from our own DMV artists, musicians and singers. Tickets are $5 per person. It's an outdoor affair. Purchase tickets at

www.dmvmsf.com

4444 Branch Ave, Temple Hills, MD 20748

DRIVE TIME – 1 hr 27 minutes**
Dave & Lauren – Live on Pearl Street Stage
Guitar/vocal duo Dave & Lauren will be performing on the Pearl Street Stage at the District Wharf in Washington, DC on Independence Day! This is a beautiful stage right on the water and the end of Pearl Street. Come celebrate our country's birthday with us! Dave & Lauren play singer-songwriter, pop/rock, classic soul, country, and musical theater. They emphasize passionate vocals, harmony, and colorful guitar playing.

DRIVE TIME – 1 hr 29 minutes**
July 4th Celebration with the Uptown Band at Governor Mifflin Community 
The 2022 July 4th Opening Night of Community Days Presented by Seidel Auto Group and M&T Bank features Shillington's Own The Uptown Band as well as a special Opening Night Ceremony with The Patriotic Order Sons of America. All entertainment is FREE and is RAIN OR SHINE!!!

Greater Governor Mifflin League Community Days, 101 S Waverly St, Shillington, PA, United States, Angelica, United States

DRIVE TIME – 1 hr 36 minutes**
Coney Island and Nathan's Hotdog BUS TRIP!
Spend the day in Coney Island and watch Nathan's Hot Dog Eating Contest! Leave White Marsh Park and Ride 6:30am, Arrive Surf Avenue in Coney Island, 10:45am Nathan's Hot Dog Eating Contest Men and Women, 4-5 hours on your own to eat, visit Luna Park amusements or hit the beach, Depart for home 5:30pm. *Includes round trip motorcoach transportation, snacks, movie, door prizes, music, games and lots of fun with fellow Broadway and NYC lovers! Be home in time for fireworks!

DRIVE TIME – 25 minutes**
The most anticipated Boat Party in the DMV is happening on independence day. This event was sold out last year so get your tickets early! 2:00pm-5:30pm

Baltimore, 1901 Old Eastern Ave, Essex, MD 21221

DRIVE TIME – 32 minutes**
Estate 4th of July Weekend – Friday-Sunday
Join us July 1st-3rd for 4th of July Weekend and enjoy some of your favorite SpringGate libations – from beer, to wine, to cocktails and slushies! There will, of course, be live music and a few of our favorite food trucks will be on-site!

No tickets required for entry!

SpringGate Vineyard, 5790 Devonshire Rd, Harrisburg, United States

DRIVE TIME – 1 hr 45 minutes**
4th of July "Biggest Tomato Contest"
Grand Prize is $1,000 for biggest Tomato grown by July 1st 2022 The Event will include FREE Healthy Breakfast. Waffles w/ Freshly grown SWEET! strawberries! w/ real Maple Syrup..Fried Chicken Wings ..Fresh Herbal Tea w/Sage will be served… Sage is a natural Antibiotic with no side effects. We will monitor and make sure you grow this actual Tomato, so deadline to join is May 4th 2022

Leviticus Greenhouse, 7 McCann Ave.,Cockeysville,MD,United States, Cockeysville, United States

DRIVE TIME – 38 minutes**
July 4th Food Truck Festival and Fireworks
The City of Harrisburg will host the July 4th Food Truck Festival and Fireworks on Monday, July 4th from 1-9pm at Riverfront Park. The event will feature 40+ food trucks, 2 live music stages featuring bands and a series of performances by the Air National Guard Band of the Northeast, free kids activities, a beer/wine garden and one of the largest fireworks displays in Central PA. The PHFA fireworks display will begin at approximately 9:15pm.

Riverfront Park, Lower Allen

DRIVE TIME – 55 minutes**
Light Up the Night Weekend
Come and celebrate a glowingly good 4th of July with us!

*Gettysburg Battlefield Resort is a members-only campground, but if you are not a member, check out www.campgettysburg.com and learn how you can join!*

Gettysburg Battlefield Resort, 1960 Emmitsburg Rd,Gettysburg,PA,United States, Gettysburg, United States

DRIVE TIME – 1 hr 35 minutes**
4th of July Rooftop Celebration
Enjoy an Unobstructed Rooftop View of the 4th of July Fireworks Display Over Washington DC and Support Your Veterans and Troops

United Soldiers and Sailors of America, 700 Pennsylvania Avenue Southeast, Washington, United States

DRIVE TIME – 1 hr 31 minutes**
Crab Cruise Fireworks July 2nd and 3rd
12:00 pm: Meeting Location Baltimore- MD (For safety and preservation of customers' vehicles, the exact location will be provided upon receiving your $25.00 deposit via your invoice link.)

Eastern Shore Transportation presents the Hip Hop & R&B 2022 Crab & Cruise! 90s & 2000's theme! Come Celebrate the 4th of July weekend, on July 2nd, 2022, 12 pm -1:30 am, an all inclusive 13 hour experience! Eastern Shore Transportation will provide the round trip charter service for the 3 hour drive to Crisfield, MD. For an all you can eat feast! BBQ Ribs, Mac & Cheese, Salad, Shrimp, Corn, Meatballs, hush puppies, wings, Cake, free domestic beer and all you can eat crabs. Get more for your buck with a free crab picking demo from 16x(times) crab picking world champion hurricane Hazel! While DJ Big Mark and DJ Adam D get you up off your feet! BUT WAIT!!! We are not done yet! Get Ready to set sail for the 2.5 hour BYOB cruise! You heard me! I said B.Y.O.B. Bring your own bottle and experience two cruise levels, two different music experiences! And we can't forget! It's the 4th of July Weekend! Enjoy a 15 minute fireworks show on the water!
A Comedy Loft favorite is back for his THIRD headlining weekend for his annual July 4th weekend visit! Through his excellent storytelling and unique style, Shayne Smith is quickly becoming one of the most talked-about comedians on the scene. He most recently self-released a half-hour special "Alligator Boys" and previously released an hour-long special "Prison for Wizards" on YouTube and Facebook, which has amassed over 32 million views.

The Bier Baron Tavern and Comedy Loft, 1523 22nd St NW, Washington D.C., United States

DRIVE TIME – 1 hr 34 minutes**
Nellie's Sports Bar – Independence Day Drag Brunch
Join Sapphire and her team of amazing drag performers as we celebrate our nation's birthday with a very special HOLIDAY EDITION DRAG BRUNCH! You'll enjoy a very patriotic All-You-Can-Eat Brunch Buffet featuring items such as: Pork Ribs, Cheesy Grits, Scrambled Eggs, Bacon, Mini Empanadas, Pastas, Steamed Vegetables, Salads, Homemade Soup, Fresh Seasonal Fruit, Homemade Desserts, and much more. Your first Mimosa or Bloody Mary is FREE!

Nellie's Sports Bar, 900 U St NW, Washington, United States

DRIVE TIME – 1 hr 45 minutes**
July 4th Musical Celebration
Cathedral organists Thomas Sheehan and George Fergus are joined by the Washington Symphonic Brass and will present a program of patriotic music for organ and brass. A concert of both familiar favorites and fresh lesser-known music, this event is the best way to begin your Independence Day celebrations!

This concert is free. Tickets are not required to attend this concert in-person. Registration is required to view this concert online. Registrants will be sent a link to view the concert on July 4. Register for online access at

https://tix.cathedral.org/TheatreManager/1/online?bestavail=28045&qty=1

.

3101 Wisconsin Ave NW, Washington, DC 20016-5015, United States

DRIVE TIME – 1 hr 35 minutes**
**drive times are estimated from Bay Area Audiology
Continue to check in as the date gets closer for added events!