Hearing Aid Styles
Hearing aids are available in a variety of styles, and which you choose will depend on your personal circumstances as well as individual preference. Custom hearing aids utilize an earmold impression that is molded to the shape of your unique ear canal, ensuring comfort and the highest sound quality possible. Your audiologist will help you determine the best style for your custom hearing aid.
In-the-Canal Hearing Aids


ITC hearing aids are designed to rest within your ear canal, which means they are small, sleek, and blend in with the tone of your skin. Small devices such as invisible-in-the-canal hearing aids are virtually invisible, while larger options like in-the-canal offer much longer battery life, more advanced functions and features, and easier insertion.
In-the-Ear Hearing Aids

ITE hearing aids are the largest option available and can range in size from a half shell (filling half of the ear) or full shell (filling the entire ear). Because they are so large, they offer the best battery life as well as the opportunity to incorporate advanced features and manual controls.
Lyric Hearing Aids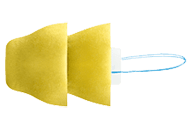 For a truly invisible and low-maintenance hearing aid, Lyric is the best choice. Your Lyric hearing aid will be placed exactly 4mm from your eardrum by your audiologist and you will wear your device 24 hours a day/7 days a week for up to three months. When your device stops working, simply give us a call to have a replacement inserted. Lyric hearing aids will not work for everyone, but they can be highly effective for mild to moderate hearing loss.
Behind-the-Ear Hearing Aids


BTE hearing aids are designed to rest behind the ear while a thin wire or tube transmits sounds directly into your ear canal. BTE devices are appropriate for even severe hearing loss. Whether you prefer the discretion of a Receiver-in-the-Canal style or you need a mini BTE that can be programmed as an "open fit" that will help you handle your high-frequency hearing loss, Bay Area Audiology will be able to create the right customized hearing aid device for your needs.
Bay Area Audiology provides comprehensive hearing services to clients of all ages in Bel Air, Fallston, Forest Hill, Emmorton, Churchville, Jarrettsville, and throughout Harford and Baltimore Counties. If you feel that you or a loved one is experiencing hearing loss, give us a call at
(410) 838-4327
to take the first step toward regaining control over your hearing.